Griffins
We are Griffins class (Years 5 and 6). Our class is taught by Mrs Morris on Mondays, Tuesdays, Wednesday mornings and Thursday mornings and by Ms. Griffiths on Thursday afternoons and Fridays.
Spring Term 2019
Our exciting topic this term will be Ancient Greece.

We will study this through a variety of subjects including English, Geography, History, Computing, Art and Design Technology. We will learn about many aspects of the history of Ancient Greece, including myths and legends, gods, the beginning of democracy and warfare. In computing, we will use search technologies and consider ways to present information.
We are also hoping that a team of engineers from Rolls Royce will be coming into school later in the term to do some STEM (Science, Technology, Engineering and Maths) work with the class, with a focus on Ancient Greece.
Maths
In Maths this term, we will mainly focus on fractions, decimals and percentages, while continuing to improve our use of calculations and understanding of number.
Science
We will be studying Earth and Space and changes to old age.
In the first few weeks of term, we will also be focussing our English lessons on journalistic writing, through use of the Guardian's award-winning 'Three little pigs' advert. Already the children are beginning to produce some impressive examples of first drafts...
Mischa, Tam and Ezara played dominoes to practise adding and subtracting fractions.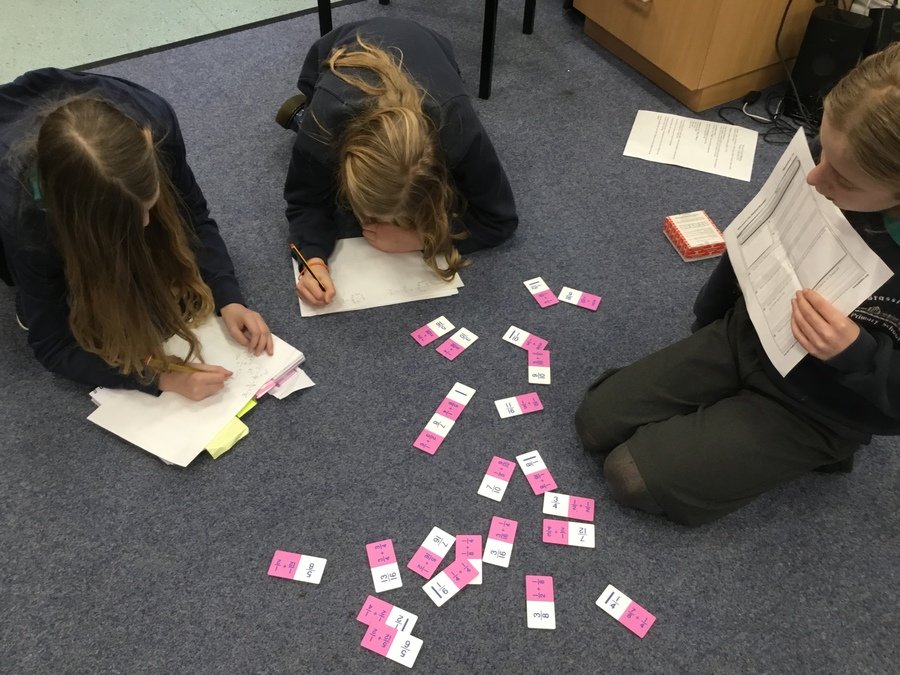 Please come into the classroom at any time to have a look at your child's work, both around the classroom and in their books.
We had an amazing time on Monday 25th February learning about computing and engineering on our Junior STEM day! Thank you to FOBS for paying for it!
Griffins Spellings: Spring second half term
Test date 27/2/19

Word families based on common words, showing how words are related in form and meaning

Test date 6/3/19

Statutory Spelling Challenge Words

Test date 13/3/19

Word families based on common words, showing how words are related in form and meaning

Test date 20/3/19

Statutory Spelling Challenge Words

interrupt

interfere

intercept

interject

intertwine

interim

internal

intersperse

interloper

interest

attached

available

average

competition

conscience

controversy

correspond

embarrass

especially

exaggerate

signature

assign

design

designate

significant

resignation

resign

insignificant

assignment

signal

foreign

apparent

appreciate

persuade

individual

language

sufficient

determined

explanation

pronunciation

MORE TO FOLLOW
Whitehall Residential Summer 2015