Snow Day work
YR Draw a picture of their favourite book and write a sentence; I like this book because...
Y1 Draw a picture of their favourite book and write sentences with capital letters and full stops to answer these questions:
Who are the characters? The characters are...
Where is the story set? The story is set...
What is your favourite part?
Y3 Make an illustration to fit with their book and write a book review to include characters, setting, favourite part and why they would recommend it
Maths
YR can they measure things at home using non standards measurement eg how many paper clips long is a book?
Y1 weigh or measure items they can find at home. Estimate how heavy something is eg I estimate the apple will weigh 20 marbles. I estimate 6 snowballs will be as long as the stick
Y2 weigh items on a scale and practice reading the measures ictgames.com Mostly postie is good.
Dragon's Class is made up of Reception children and Year 1 and 2 pupils. Project Dragon is underway to improve access to a secure outdoor area and re-work the indoor environment. We are very grateful to the local businesses who have donated funding to provide the fencing for the Early Years Outdoor Space. This is now in place and used every day. The next step is to install a sink in the middle classroom and re-work the storage so that Dragons can move back to the middle room with direct access to the outdoor area and a bit more space inside.
A full review of EYFS resources is also underway. At present phonics is taught mainly through' Read Write Inc' supplemented by Jolly Phonics and the reading scheme is mainly Oxford Reading Tree with a range of supplementary books used as appropriate for individual children. Maths teaching is based around the White Rose Maths Hub materials.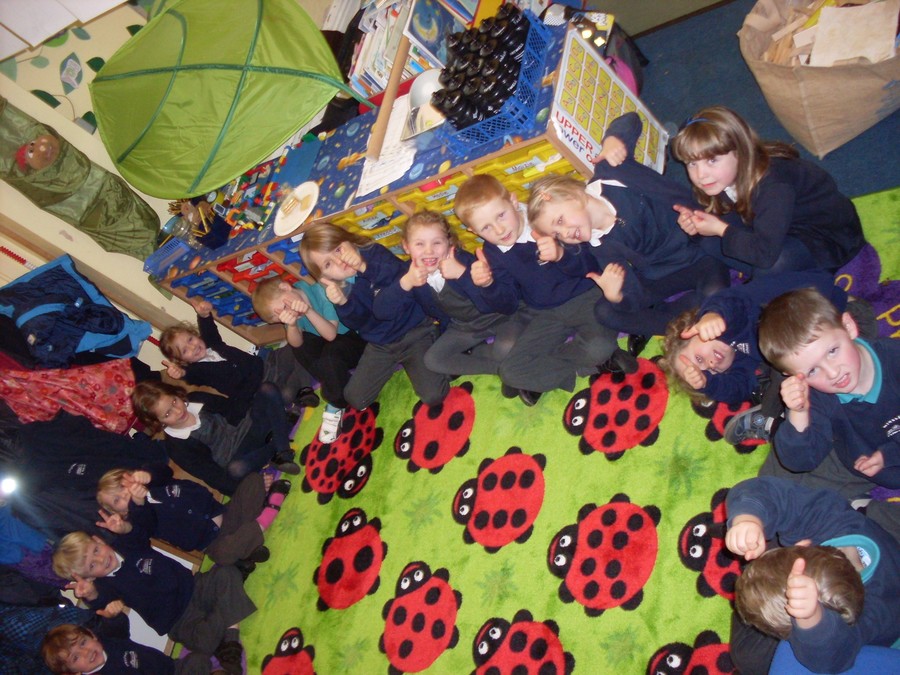 Suddenly there was a loud BANG!! Outside a spaceship had landed on our playground....we helped the police by investigating the scene!
We found out that the spaceship belonged to a small yellow alien called Beegu who had long floppy ears, he needed help to return home safely.